Editing PDF files is always a hassle for office workers, and finding a reliable and easy-to-use app for this task is a challenge. Our customer, Tweaking Technologies Private Limited, finds that it's a chance for them to improve the influence and download volume of their apps. As the cutting-edge company for this technology — Edit PDF, Tweaking Technologies came to us, for our product — ComPDFKit.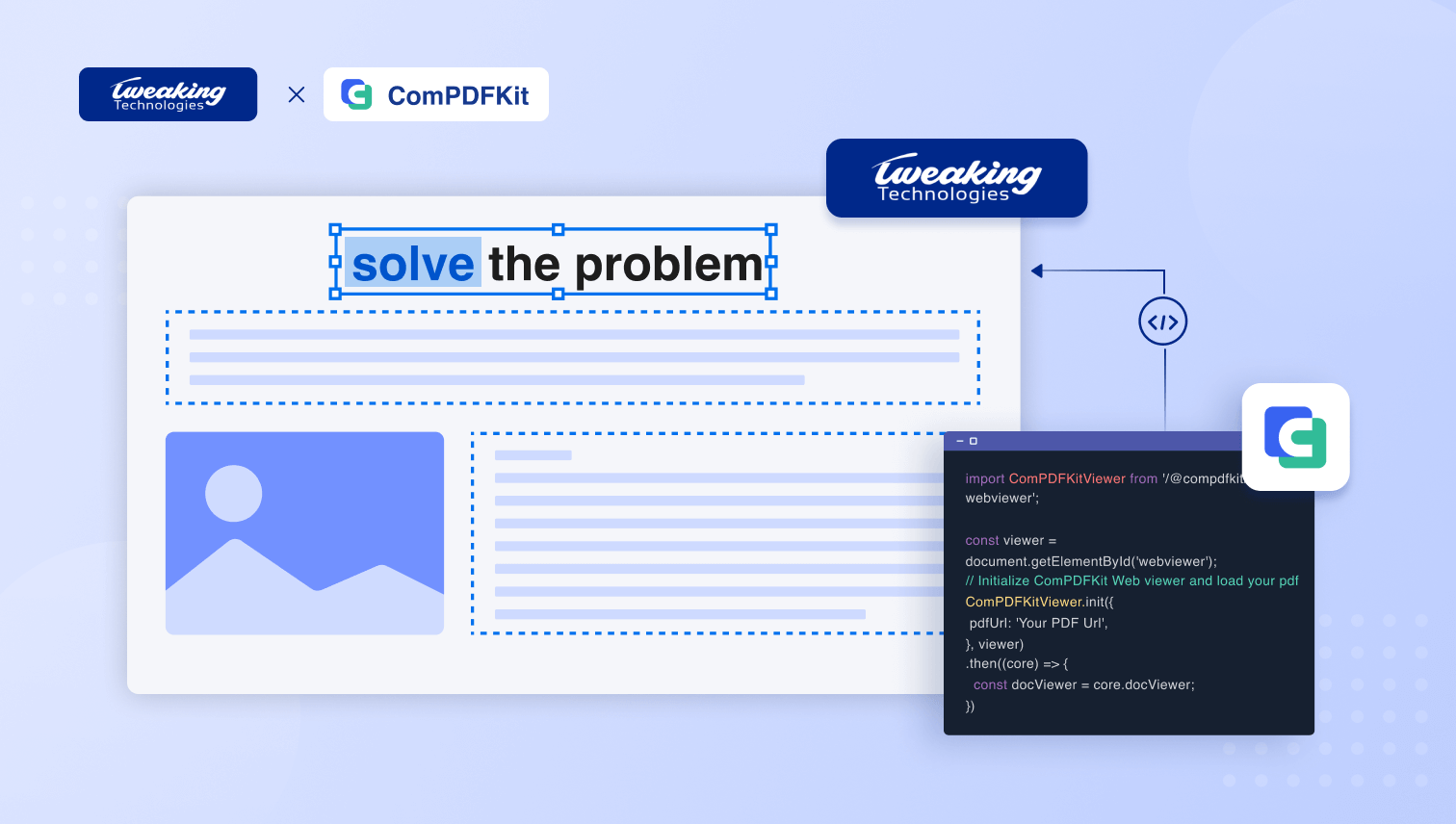 Tweaking Technologies is a leading player in the software development industry and is committed to developing innovative and user-friendly Windows, Mac, iOS, and Android office software for demanding users. The company's mission is to provide high-quality application solutions.
Systweak PDF Editor is the product of Tweaking Technologies and is a Windows app that allows users to easily view, annotate, convert, and secure PDF files. However, the company soon realized that the PDF content editing feature is important. That's why we could start our happy cooperation.
The Challenge They Are Facing
Systweak PDF Editor is facing several challenges in the market. Despite having a lot of product promotion, the download and installation rate was not very ideal. The app struggled to differentiate itself from other similar apps in the market and to find a way to grow and breakthrough.
Absolutely, they find their way. Everything has to start with providing a good product. So, Systweak PDF Editor is the app to achieve their goal. To provide their users with a high-quality, practical, and mostly used advanced Windows app, they want to solve the problem of lacking PDF editing functionality.
The app also had a tight project timeline, but it wanted to integrate a reliable and high-quality PDF SDK into its app. The app needed an SDK that could edit, set, and adjust the text & image in PDFs that would enhance the user experience and satisfaction.
Why Do They Choose ComPDFKit?
The Tweaking Technologies team said: "I have a similar solution with less price from a company like you, but I like your follow-up and resolution speed, so I am interested in purchasing yours."
The reasons for Tweaking Technologies' choice of ComPDFKit go beyond the brand. After evaluating other PDF SDKs in the market, they found ComPDFKit to be superior in several aspects:
- Advanced Technologies: ComPDFKit offers robust technologies and PDF modules to work with PDF files. The SDK also provides a demo app for developers to test and try.
- Regular Updates: ComPDFKit is updated on a regular basis, keeping up with every platform's major new developments, while at the same time adding exciting new features.
- Easy to Use: The implementation of ComPDFKit is straightforward due to its ease of integration, user-friendly interface, extensive documentation, and professional, fast support.
- User-Friendly Features: When editing PDF text, switching the input method would change the font of the input text. ComPDFKit would find a similar system font to replace it, ensuring that the input text could be displayed normally. However, some other PDF SDKs would warn the font errors and don't allow editing.
- Customizable: Customize the font settings, default shortcuts, and UI for their needs.
- In-time & Patient Service: Quickly respond to customers' questions or requests.
- Efficiently Communicate: Communicate directly with our developers through convenient tools like WhatsApp, Skype, etc.
Solution of ComPDFKit
ComPDFKit helped Tweaking Technologies improve its product to meet the product strategy. The SDK empowers the app to edit PDF content with features.
ComPDFKit provides Tweaking Technologies a professional PDF editing technology that enables their Windows platform users to add, delete, modify, and set the properties of text and images in PDF files. ComPDFKit supports all deployment methods (offline SDK, API remote call, API private deployment). In this cooperation, the customer chose the local SDK to integrate into their app, without relying on any third-party services or cloud storage, which is more secure and fast, and greatly ensures data security and privacy. In addition, according to the customer's needs, some functions were adjusted to make them more suitable for the customer's unique requirements.
ComPDFKit also offered a flexible pricing plan for Tweaking Technologies to choose the suitable plan. The SDK also had some preferential policies for small and medium-sized organizations. Our solution includes the following service except for our advanced technologies:
- Complete and extensive documentation.
- Professional & fast technical support.
- Include bug or issue fixes.
- Specific developer to help with technical support.
More to Come!
After purchasing our text editing function, Tweaking Technologies is trying out our SDK's other development platforms (Mac & iOS) with all functions. They are planning to make Mac and iOS platform PDF editors and look forward to continuing this friendly cooperation with us.
We are happy to have a long-term cooperation with Tweaking Technologies.